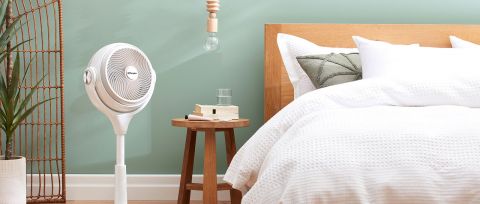 Air circulators: For a healthy home in any season!
4 min read
Think air circulators are just for summer? Think again. These incredible tools are perfect for keeping your home feeling fresh and manageable all year round - yes, even in Winter! You can have total control of your comfort in any room with easy to use buttons and a lightweight finish to effortlessly move it from room to room. They're cost-efficient due to their low wattage, easy to use and highly portable.
Here's why keeping cool is a breeze with a Dimplex Air Circulator:
More efficient than a traditional fan
They're designed to circulate the air, with the head oscillating in all directions (360˚ to be exact) to hit every part of your room, rather than just the area in front of the fan. Placing it near an air conditioner or heater (depending on which season you're in) will also distribute the air much more efficiently. 
Can be used during any season
There's an option for absolutely any time of year, so this device won't gather dust in your cupboards during Winter - it's that versatile! During Spring you can use it to clear stuffy atmospheres, in Summer you can use it to cool down your room and to make your air conditioner even more efficient by circulating the cool air further, in Autumn for an even room temperature and even in Winter to circulate the warm hair from your heaters. Toasty! You can also place it next to an open window to keep rooms feeling fresh by replacing old, stale air with fresh air, making any room much more comfortable to be in - especially if you live in more humid parts of Australia.
Sleek design
Worried about adding an unsightly device to your home? No need. The smart and sleek designs of our Air Circulators means they'll slip effortlessly into any room, whether that's at home or the office, making the perfect addition - wherever you are.
There are 4 Dimplex styles to choose from 
We have 4 incredible styles to choose from: An Air Circulator with Manual Controls, an Air Circulator with Electronic Controls and Timer, an Air Circulator with Electronic Controls, Timer and Remote, and the Air Circulator Pedestal Fan with a fully head oscillation and tilt plus remote control. With all functioning in normal, natural and sleep modes, the air circulator will enhance your comfort in any room and time of day or night.
If you want to experience the difference of Dimplex Whirltech in your home, then take a look at our collection of Air Circulators and if you can't decide which one is right for you, then don't be afraid to get in touch and we'll be happy to help you with your decision.