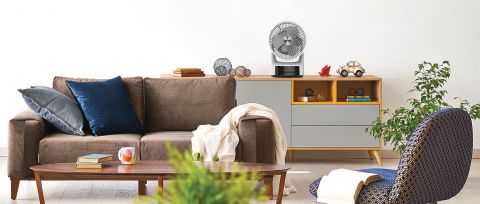 Spring into a new season with some tips and hacks for Spring Cleaning
5 min read
The start of a new week, a new month and especially a new season can bring huge temptations for big clearouts and a huge bout of spring cleaning to brighten up your life - even more so with more of us spending time at home! Whilst it might be tempting to jump straight in as soon as the moment takes you, with a bit of careful planning you can make a difference and transform your home to make it feel brighter, fresher and ready for Spring without too much effort. Not only can spring cleaning help minimise the spread of viruses and bacteria for a healthy immune system, but it can also boost your mood, especially if you've had a few days stuck indoors!
Always spring clean from top to bottom
It might seem like an odd tip, but we'd recommend always cleaning and tidying from the top of the house (or the top of a cupboard if you're starting small) so that any dust and mess travels downwards and you won't have to clean twice - which is something we can all appreciate!
Use olive oil to refresh wooden products
Believe it or not, your kitchen cupboard staple might not just be for your salads and pasta dishes! Olive oil is also great for brightening up small wooden items and furniture. Just lightly sand and wipe with the oil, let it sink in, wipe off any excess and leave to dry at room temperature for a few days. You'll feel like you have a brand new wooden piece! Olive oil can also rejuvenate old, dry leather belts that need a refresh.
Switch your Winter wardrobe for your Spring wardrobe
You can finally say goodbye to those wooly sweaters and padded coats! It's time to pack away all your Winter pieces (you can use vacuum storage bags as a big space saver) and get out your Spring essentials. Starting smaller by clearing out your wardrobe can be the easiest beginner option to get started and feel like you're beginning the new season transformation!
Clean your patio with washing powder
It's not all about the inside of your home! To clean a concrete or stone slab patio, use washing powder by sprinkling a little on the surface with a little bit of water and work it into the material with a stiff brush. Then leave overnight to soak in and rinse off the next day to reveal a sparkling clean patio!
Improve the quality of the air in your home with Dimplex Air Treatments
Of course, not all changes have to be about dusting and cleaning… Keeping the air in your home fresh can be just as important. Our dehumidifiers and coolers are a great way to improve the air quality in your home and if you can't choose, then our WhirlTech Air Circulator is a great option! Our Air Circulators can be used all year round to circulate cool air from air conditioners, hot air from heaters, or to help keep rooms fresh by circulating stale air with fresh air. Dreamy!
Most importantly… go easy on yourself!
With an entire house or apartment stretching in front of you, it can be easy to feel overwhelmed at the prospect of getting started. So our advice is to go little and often, tackle the areas you use the most first and don't feel like you have to hit everything.