Forget Spring Cleaning, it's time to think about Spring Cooling!
5 min read
We know the weather in Australia can be up and down and you might still be wrapped up in cosy clothing, but trust us when we say the heat is on! It's a good time to start thinking about how you'll stay cool this Spring and Summer. At Dimplex we've got you covered with a range of cooling options and with a heritage of nearly 70 years behind us, you can trust that we've continued to evolve, innovate and experiment with new technologies to continually bring you the best. If the past summers have left you feeling less than fresh, then our range of innovative and reliable cooling appliances are the answer.
Whether you're looking for portable air conditioners or fans to follow you room-to-room,  split systems to keep the house cool, evaporative coolers for that natural fresh air feeling, or air circulators to keep the cool in cycle then we have the solution. So let's figure out what suits your needs so you can stay cool this season.
Portable Air Conditioners
For cold air that you can take with you and compact designs that you can put away at the end of the season, our range of Portable Air Conditioners also include dehumidifying functions to tackle the heat on two fronts. How cool is that? With remote control, sleep-mode timers and self-evaporative systems so there's no drip tray or drainage required, our Portable Air Conditioners are intuitive. You don't have to worry about a thing, simply turn it on and relax. We also have a range of unit sizes from 2kW to 4.5kW, so you can be sure to find a model that's perfect for any room size.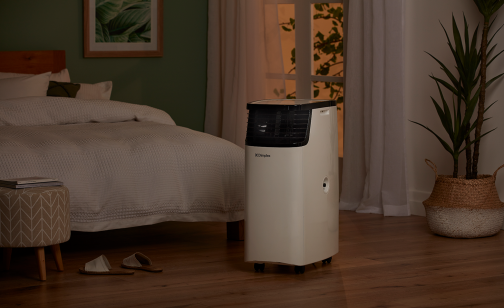 Portable Air Conditioner - 4kW Multi-Directional Portable Air Conditioner with Dehumidifier
Fans – Pedestal, Tower, Floor, Box
Keeping comfortable this spring just got simpler with our huge range of fans. With oscillating functions, a range of speeds and dimensions, we've got a fan perfect for every room. Place a floor fan in the corner for an instant refreshing breeze the room over, or a box fan by your desk. Our tower fans with oscillating functions are perfect for the family rooms, just don't let one person hog the breeze! With simple controls, high velocity airflow and heavy-duty bases our pedestal fans are sure to serve you well again and again too. We even have a misting fan to give you a natural night-like breeze
Fans - 50cm Box Fan with Handle
Evaporative Coolers
Just like the sea breeze, our evaporative coolers are designed to naturally cool the air with a combination of motion and water evaporation, ideal for large, open and dry areas. Including remote-control activation and swing functions they're sure to keep your whole room cool, it's easy breezy! In a range of sizes but with sleek compact designs they're perfect for the summer seasons and can slide away in between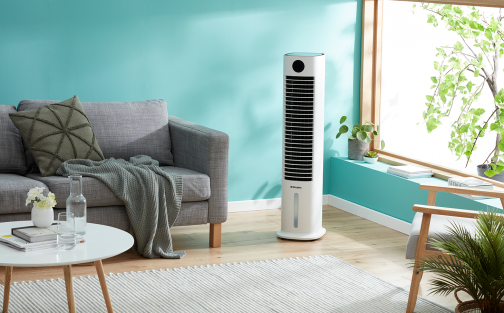 Evaporative Coolers - 8L Evaporative Tower Cooler
Air Circulator
The Dimplex WhirlTechTM Air Circulator, coming in a range of styles and sizes, can be used all year round to keep your home at that perfect temperature. In Spring and Summer let them circulate cool air from air conditioning all-around your home, and in Winter, keep your rooms warm and fresh without needing to let in the cold! The new models with Heat and Cool functions will help keep your room at a comfortable temperature.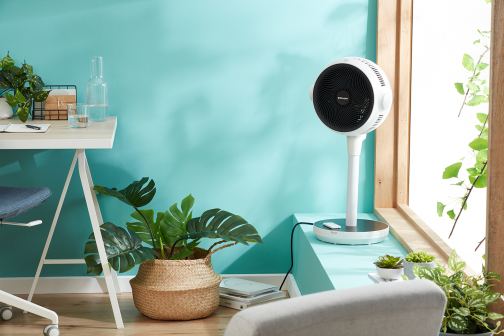 Air Circulator - Heat & Cool Air Circulator Pedestal Fan
Split Systems
Seeing as this is Australia, you're likely to need cooling and heating all year round. So why not go for a system with both? With our reverse cycle split systems and window/wall box air conditioners, you can make sure your room is at the perfect temperature, always, just with the touch of a button!
So, there you have it. When it comes to cooling, Dimplex has got you covered! Read more here. Or feel free to contact us with any questions. We're here for you!